Myanmar (also formerly known as Burma) is a country in South-East Asia surrounded by China, India, Bangladesh, Thailand, and Laos. The country has over 100 ethnic groups and is home to the famous Shwedagon Pagoda. Myanmar is bustling with vivid nature and many interesting cultures and traditions. In this article, we will take you to explore one of their upcoming festivals called "Kyaukse Elephant Dance Festival".
Elephant symbol and the culture of Myanmar
Myanmar's culture is mainly influenced by not only Buddhism and the Mon people, but also their neighboring countries as mentioned above. Like many countries in Asia, Myanmar also adopted the elephant as one of their symbols. They believe that the White elephants are a symbol of power, prosperity, and peace.
The Kyaukse elephant dance festival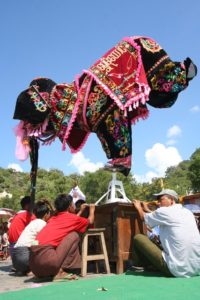 Image Source: Bertrand Linet
For each of the 12 months, there is a corresponding festival in the calendar of Myanmar. The Kyaukse elephant dance festival takes place in October toward the end of Buddhist Lent, at a small town called "Kyaukse", just a short drive from Mandalay. It is one of the most famous festivals in Myanmar where people from around the country come to visit the town and to watch the elephant come to life with enthusiasm.
Similar to Chinese's dragon dance, the Kyaukse elephant dance is run by two men dancing inside the colorful paper and bamboo-decorated elephant structure, trying to match the dance beat and the drum rhythm. The dance pays homage to the Shwe Tha Lyaung pagoda by circling 3 times at the foot of the pagoda's slope. This tradition aims to increase and strengthen the people's unity. The magnificent elephants take a few months to create. People come together to play their part in preparing this piece of art.
Keeping the tradition alive
Nowadays, the new generation of elephant dancers keep this tradition alive by holding a competition in the morning. The Kyaukse elephant dance festival is now a full-day event where people can watch the original tradition as well as enjoy the parade and the dance competition.
Such wonderful traditions preserve the culture of a country. By knowing the culture of a country, it becomes easier to transmit a message from the language spoken. When we talk about translations and the secrets of good quality in our blog, we often refer to the cultural knowledge a translator must-have Living in the country and seeing their traditions first-hand helps to comprehend what is hiding under the layers of words in a text. It is easier to grasp a meaning and to transmit a message. That is why at 1-StopAsia we love traveling and experiencing the countries with all the Asian languages we work with.