Anyone who has been in touch with Asian countries and culture has either by accident or by recommendation stumbled upon K-POP (in Korean 케이팝). It is a genre of popular music originating from South Korea, which is part of a larger phenomenon – Hallyu or the Korean Wave. Simply speaking it refers to the trend of Korean culture entering the rest of the world and the fact that in the last decade Korean culture has contributed to the South Korean economy a lot. But how does a linguistically different and incomprehensible culture becomes so popular?
The Western Model
Usually, when something in the western world becomes "viral" and widely popular, it then leads to a whole lot of investment, marketing, strategy, branding, and localization to reach the rest of the world and then many different countries. We as consumers are used to such a model of developing a brand and making it successful. We, westerners, are used to thinking there is no way of being on top without investment. Something completely different happens when it comes to K-POP culture.
The K-POP Model
It is true that music doesn't need translation to reach the audience but even operas get translated for various countries. So how does the hidden message behind wonderful Korean pop-songs reach the audience that doesn't speak the language?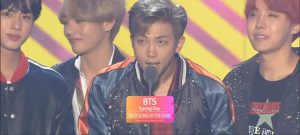 Image Source: BTS Views
The secret weapon of K-POP culture lies with the millions of fans they have. If you check online for information about K-POP, you will discover that there are even explanations on what lies behind the texts and videos of some of the songs. Take the most popular band currently BTS and their song Spring Day, for example. If there is no Video explaining the sad story of a big tragedy and the deep meaning of the video clip that goes with it, are you sure you will understand all of it? And it is a wonderful story showing the problems of a society that is unknown to us.
Where does translation fit in this article?
All content of K-POP reaches its international audience through translation. And when I say translation – there are twitter channels, blogs, videos and so many other channels that bring the content translated to us, that it is hard to imagine it without a translation company. Well, the fact is there have been a few attempts to do things with professional translation companies and all of them unsuccessful. The fans of K-POP are so many and so true to their idols, they do the translations for free and that happens with big efforts and very high time-efficiency. The truth is translations are close to professional and sometimes they appear so fast, there seems to be a whole army of translators behind it.
The secret behind it
A culture having such a huge army of fans within the country and outside of it is like having an enormous pool of native freelancers. And not only – being familiar with the "terminology" fans can very specifically translate content into another language they are fluent in.
The fact that South Korea lifted a 50 years ban for traveling outside of the country helped a lot. It gave people (and fans) the possibility to travel, learn about other countries and languages and basically made them the perfect localizers for a whole new culture.
So are fans of K-POP culture better than a translation company?
That is something we will leave for the future to be seen when K-POP culture grows even more in popularity. Which we are pretty sure is going to happen very, very soon.