With spring going full force and summer waiting just around the corner people have already fully woken up and are searching for new challenges and adventures. As we can conclude from the growing number of participants worldwide, one of the best forms of physically challenging yourself is signing up for a marathon. This sports activity is recently gaining a lot of popularity in Asia, as the number of people that enroll in marathons in Asia is growing dramatically.
But why is this craze taking over Asia? Is there something more to running a marathon than fitness? Doesn't running such long distances tire your mind and make you bored? We are ready with answers to all of those questions!
Marathons in Asia – a wholesome activity gaining popularity
Most people imagine that Asians are too busy for such types of time-consuming sports activities. Speaking about elderly Asians, there is the stereotype that they are calm, tired people, who enjoy sitting in one place or take short walks to the nearest parks. You will be surprised, however, to learn that almost 40% of the marathon participants belong to the over 50-years-old category.
Despite their busy routines, more and more people around the continent search for the opportunity to run a marathon in their free time. Some say that when you start your first long run, it feels like the biggest challenge you have ever felt. Finishing it, however, brings you a feeling of satisfaction that cannot be compared to anything else. Naturally – it gets addictive!
Contrary to the expectations, when asked about the reason for their participation in the run, most Asians state it to be the feeling of personal achievement rather than fitness or health.
Making choices – running a marathon or staying in the gym?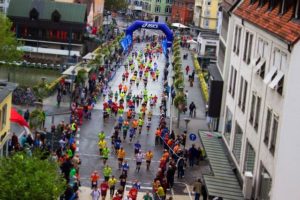 As we already said, mass running events are rarely about staying fit or burning calories (although it helps tremendously with that, too). People search for a physical challenge and an opportunity to show themselves what they're capable of. Finishing a marathon means you're winning not only a medal and t-shirts but also winning a race against yourself. It also gives you the right to brag about it in front of all of your friends and family!
Marathons, no matter what kind of distance, bring people together. A lot of them are organized to support a certain cause. Whether it is collecting money for sick people or nature, such an event gives the participants a higher purpose. Besides the fact that you will make a lot of new friends, there is a chance for you to see a bunch of new and fascinating places. There are tracks that go through forests, and such that will show you undiscovered places and local monuments. All in all, running a marathon is a fast-paced sightseeing tour.
The most beautiful marathon tracks in Asia
If we caught your interest in all of this information and you feel ready to take part in marathons in Asia, we have prepared a small list of events with promising views. All of those are, however, only potential plans for the time being because of the recent virus outbreak. If you are curious about them, we suggest you search for updated information, regarding each of the marathons.
Luang Prabang half marathon – it is held in October and raises money for sick children. One thing is sure – you wouldn't forget passing the Royal Palace, Haw Pha Bang gardens, Wat Visounalat and Mekong river while hearing the crowds cheer for you.
The Borneo International Marathon is usually held annually at the end of April. This is a 10km run where you would be able to enjoy the view of pristine beaches, waterfront houses, the tropical jungle and "the floating mosque" of the city.
One of the best marathons in Asia is the Korean Jeju International Tourism Marathon that offers views of Jeju as the participants run along the coastline of the volcanic island. It takes place at the end of May and is one of the oldest marathons in Korea.
The Kyoto Marathon (京都マラソン, Kyōto Marathon) is more of an ecological sports event that promotes a greener way of life. It starts mid-February and the only marathon option is a full marathon but as the nearest February is in 2021, you have plenty of time to prepare for it. It might be exhausting but just knowing that you will pass seven UNESCO World Cultural Heritage sites makes it seem like a very attractive choice!
And one might wonder why we as a translation company talk about marathons? Well, first and foremost we love sports and exploring different opportunities. And secondly, we do believe that traveling and visiting new countries is a good way of gaining a new understanding of the cultures around the world. After all, cultural differences are a key point when translation and localization of not only Asian languages but any other languages.