13 years ago I moved to Bulgaria from Newcastle Upon Tyne, and for those who don't know Newcastle, give Geordie Shore a Google and you will see why I left.
I really do love it in Bulgaria, and one of the great things about me moving here is that I have discovered the true importance of language. My wife is Bulgarian, and I now have a daughter who is Bulgarian and British. My wife does speak English, but If I didn't learn the native language my world would look completely different from the one I inhabit today. Ludwig Wittgenstein said it best "The limits of my language mean the limits of my world". If I would have only used English, I would have literally no relationship with my wife's family and with many other amazing people that I have had the pleasure of meeting during my time here. Which has really opened my eyes to just how important it is to be able to communicate in the native language of the country you live in.
A bit more about me, I was born in 1992, so my childhood was filled with plenty of time playing outdoors, and the rest of the time I was indoors playing video games. I am now 28 years old, and my love of video games has not changed. I am rocking the PS4 now, and by the time you are reading this, I will probably be playing on the PS5.
You are probably wondering why is this guy going on about video games in the middle of an Asian translation industry magazine?
Well, today I want to talk about a badass game called Ghost of Tsushima, and how amazing the experience was to play such a beautifully crafted Japanese Samurai video game completely in Japanese.
I do work for 1-Stop Asia, but I can only speak English and Bulgarian, I don't know Japanese, so I did use subtitles. This didn't take anything away from the absolute masterpiece that is GOT, and in particular, the level of authenticity that was achieved with this game. It perfectly showcased the magnificent landscape of Japan and was able to capture the level of discipline and grace that Samurai are famous for through detailed character mannerisms and actions. I believe GOT stands as a tribute to the legendary Samurai of Japan.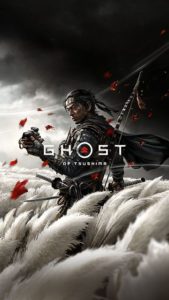 Image Source: playstation.com
I have played a lot of games over the years, but I have never played a game that provided such an immersive experience with such unbelievable detail. This game is the 2020 "game of the year", in my opinion, and is one of the very best games I have played. However, this quality of experience is only achievable because of the professionals in our industry. Without translators and localization Ghost of Tsushima would only be known to a small audience, but because of the amazing individuals in our industry, it gives people like me the opportunity to authentically experience another reality, visually and audibly from the comfort of my own home.
Back to the translation industry, I do want to share an honest opinion on it from my point of view.
I have worked in the translation industry for more than two years now, and in an industry that is so automated, I have never seen so much humanity. I have worked in sales for many years for different companies, but communicating with translation industry professionals is so refreshing, as they actually show understanding and watch out for each other. You go to the conferences and you see the same faces, and you always have a great laugh. Communication via email is always filled with smiley faces and pleasantries. I am really proud to be part of such an esteemed international community that provides an invaluable service. I am also very proud to be part of the 1-Stop Asia family, we are a bunch of highly intelligent and capable ninjas, who strive for excellence in everything we do. I am blessed to work with such amazing people, who support each other and who are always ready to give you a hand.
That's enough from me anyway, I will finish with some words of wisdom. We are all going through some challenging times at the moment, but let's all remember to stay thankful and focus on the positive things in life. "Tough times never last, but tough people do" – Robert Schuller