While known for its anime, sushi vending machines, punctual public transport system, as well as other cultural aspects, Japan is an interesting country and other less known aspects about its culture are well worth exploring. One such Japanese cultural aspect is what is known as the Kokeshi Doll. But what is it and what does it represent? We take a closer look at this below.
Kokeshi Dolls: origins and history
Kokeshi Dolls originated centuries ago in Japan when wood craftsmen would make children's toys from the leftover wood after making plates and bowls. They would go to onsen, or hot springs, where farmers from nearby areas would come to rest. Eventually, the purchasing of Kokeshi Dolls became so popular that there was a decision made at the All-Japan Kokeshi Exhibition in 1940 which decided on the name "Kokeshi" and it has been used as the common name for them ever since.
There are several outgrowths of the Kokeshi Doll style, each depending on the artist and the region where they are from. Ultimately, however, Kokeshi Dolls have a long, elongated body with no arms or legs, attached to a head. The entire doll is created out of wood and the body and face are both painted according to the artist's style.
As with most things related to fashion, there are ebbs and flows that carry the popularity of an object forward, only to recede later on. The same is true for Kokeshi Dolls and they are now an increasing craze in Japan, especially among young women.
The different Kokeshi Doll styles
Japanese culture would not be the same without Kokeshi Dolls. But there are a dozen styles of them, so sometimes it's hard to differentiate between them. Let's take a look at some of these.
Naruko style (Miyagi): This style of Kokeshi Doll has a trunk that's decorated with colourful chrysanthemum or maple designs to enhance its facial expression. The head is attached to the body by a peg, and it makes a squeaking sound when it's turned.
Togatta style (Miyagi): Decorated with chrysanthemum, cherry blossom, or plum blossom designs, this Kokeshi Doll is distinguished from others by the fact that the head is much larger than the bodies. The almond or crescent-moon shaped eyes give it a gently smiling expression.
Yajiro style (Miyagi): In this style of Kokeshi, the head is a bit larger than the trunk, and "carving tracks overlap on the head, giving it a beret-like appearance." With a slightly concave trunk, the lines that emphasize the neckline and the bottom edge of the kimono design are distinctive.
Sakunami style (Miyagi): Also from the Miyagi area, this is a slim variety of Kokeshi Dolls. Their original design was to ensure they're easy to grasp by children as toys. The trunk's center is often decorated with chrysanthemum patterns with long, thin petals. An interesting fact about this style of Kokeshi Dolls is that they are today only produced in modern-day Sakunami, in the Hiraga Kokeshi Shop.
Tsugaru style (Aomori): The Amori prefecture is home to the Tsugru-style Kokeshi Dolls, where the head and trunk are carved from a single piece of wood. The peony flower is usually depicted on the kimono, while the hair is usually in a bobbed style, with a cinched waist and a flared foot.
Nakonosawa style (Fukushima): Located in the foothills of Mount Bandai, these dolls have large, red-rimmed eyes with a broad nose. The trunk is painted with peonies or cherry blossoms.
Tsuchiyu style (Fukushima): With a small head and a slim trunk, this Kokeshi Doll features a red hair ornament over the fringe. They have elongated noses and small red mouths. The trunk is painted in bright, wavy lines.
Nanbu style (Iwate): This style of Kokeshi Doll is mainly produced in Hanamakin and Morikoa cities in the Iwate prefecture. An interesting fact about them is that the wood was often left unpainted to emphasise appreciation of its grain. However, painted designs were later adopted. The head is loosely attached to the trunk and it makes a knocking sound when the doll is moved.
Zao Takayu style (Yamagata): The trunk of this style of Kokeshi Doll is slightly cinched toward the bottom and is decorated with designs that either feature overlapping chrysanthemums, cherry blossoms, or peonies. The top of the head features a tegara hair ornament.
Hijori style (Yamagata): These dolls project a benign expression and have crescent moon-shaped eyes. The trunk is typically painted yellow with square shoulders. The kimono is typically decorated with a chrysanthemum motif. Another interesting aspect of this doll type is that some of the larger versions of it have heads filled with adzuki beans, which create a rattling sound.
Yamagata style (Yamagata): Made in the heart of the city of Yamagata instead of the hot spring town, these dolls feature a small head and a slim trunk. They are decorated with plum, chrysanthemum, or cherry blossom motifs and sometimes with safflower, which is the official flower of the Yamagata prefecture.
Kijiyama style (Akita): With a small, elongated head with a bobbed hairstyle, this Kokeshi Doll is also made from a single piece of wood. The head is often topped with a red, ribbonlike decoration, while the kimono is often striped, although some designs feature the traditional chrysanthemum or plum blossom design.
Uses of Kokeshi Dolls
With their growing popularity, Kokeshi Dolls are used for a variety of purposes. These include: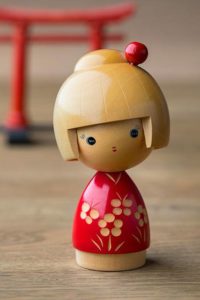 Children's toys: Their traditional intention as children's toys is still carried forward and Kokeshi Dolls can serve as lovely playthings for young children. Since they do not have small parts which are dangerous for digestion, they make for safe toys.
Hopes for bountiful harvests: The farmers of previous decades took the Kokeshi Dolls home in the hopes that it would bring them bountiful harvests.
Good luck: Many people today believe that Kokeshi Dolls can bring good luck, and they are used as charms.
Collector's pieces: Due to their exhibition at markets, Kokeshi Dolls have become collector's pieces and many European tourists have collected them, adding them as ornaments to their homes.
Works of art: The variety of Kokeshi Doll artists and the multiple ways in which they're created has created an artistic movement and some Kokeshi Dolls may be considered works of art.
Conclusion
To fully immerse yourself in Japanese culture means to experience all the cultural Japanese intricacies of this beautiful country. The Kokeshi dolls discussed above are some of the main cultural artefacts you'll come across, and whether you purchase them for luck or to simply decorate your home, they'll certainly make lovely additions to your interior decor as they serve as great works of art. Alternatively, give a Kokeshi Doll as a gift to a child. They'll love the wooden toy as much as any other and will appreciate its uniqueness.