These days, there are a lot of online chat applications being used around the world. You're probably familiar with WhatsApp, Facebook Messenger or others. In Asia, some of these apps have gone above and beyond just being used for chatting. They've become part of the population's daily lives – not just for instant messaging, but for payment, gaming and a lot more! In this article, we will be focusing specifically on WeChat in China, LINE in Thailand and KakaoTalk in South Korea.
WeChat in China
Owned by the giant tech company Tencent, WeChat has over one billion users in China. That, alongside the fact that Facebook is blocked in China, means that people are using chat applications like WeChat to not only exchange messages but to also share their photos or videos in a place where friends can like them or comment on them. In a more corporate context, people generally prefer WeChat to email. Furthermore, businesses in China and those in many other countries accept payment by WeChat via a service called WeChat Pay. Users can also send and receive payments, making their lives much easier and more convenient! Last but not least, WeChat has built-in translation functionality, allowing for the conversion of Chinese text to other languages (the most popular one being English). This translation service understands a lot of the complexity of the Chinese language and allows users to communicate seamlessly.
LINE in Thailand
LINE is a company founded by Naver, one of the most influential online corporations from South Korea. It's considered a subsidiary of it and its headquarters are located in Tokyo, Japan. Out of the 70 million people living in Thailand, 50 million are users of the LINE chat application. A lot of Thais are using LINE a few hours every day for texting, work, gaming and/or making calls. LINE gained a lot of its popularity from the cute and varied "stickers" design which users can send to their friends, making texting fun and expressive. Users can also create, customize and share or sell their own stickers on the platform. Nowadays, people tend to ask for each other's LINE ID instead of a mobile number. LINE also offers companion apps, such as LinePay, Line Camera, Line Games, and LINE TV.
KakaoTalk in South Korea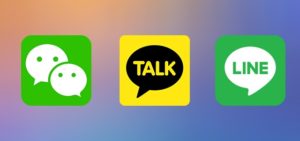 Being the first free alternative to regular SMS messaging, KakaoTalk gained the advantage as being the first in the market and managed to capture the majority of Koreans easily, making it difficult for other chat applications to breakthrough. Just like LINE, KakaoTalk also offer tons of cute "stickers", with many characters collectively referred to as "KakaoFriends". There are several Kakao Stores in Seoul in which you can see these characters come to life and get merchandise based on them to bring back home! What's more, Kakao also offers other useful applications for use in daily life, such as KakaoMap, KakaoBus, KakaoMetro, KakaoTaxi, KakaoPay and more! Some of these apps are available in English, allowing English speakers in South Korea to take advantage of their benefits as well.
The innovation continues
The keys to the success of these chat applications are knowing their users and maintaining continuous development. As a tip for you, we highly recommend that you make sure that you're visible in those channels as well; WeChat, LINE, and KakaoTalk. It would be in your interest to create an official account in them now if you haven't done so already. People are accustomed to using these apps more than emails nowadays as they're more familiar with them and they're easier for them to use. And as a marketer, what's better than being 'close' with your clients? Feel free to contact us if you need any help in setting your accounts up, or share your feedback or results with us after you've used them for a while. Stay tuned to our blog in order to keep yourself up-to-date with our news updates and receive insight from Asia.