According to the United Nations, "the COVID-19 pandemic has created the largest disruption of education systems in history, affecting nearly 1.6 billion learners in more than 190 countries and all continents. Closures of schools and other learning spaces have impacted 94% of the world's student population, up to 99% in low and lower-middle income countries."
As a result of this, e-learning, where possible, has taken center stage in students' educational journeys, with multitudes of schools and universities adopting virtual technology and tools to bring content to their learners. In fact, according to some sources, the global e-learning market is projected to reach US$325 billion by 2025.
But it's not only e-learning that is gaining prominence in our society as a result of COVID-19. Content creation, virtual events, and over-the-phone interpreting are also taking the world by storm.
In this blog post, we'll share with you some of the top services which are thriving in our new virtual reality.
1. The rising prominence of e-learning
Education is the cornerstone of any society. It is the process of acquiring knowledge and skills to better one's means of making a living and creates professionals in spaces where these are needed.
With the COVID-19 pandemic, however, and the subsequent movement towards e-learning across the globe, a new virtual reality is taking center stage in education. In fact, apart from the flexibility it offers in the virtual classroom, virtual reality in education has the capacity to offer asynchronous discussions with classmates, helps with time management, offers a combination of structure and freedom, enables students to get immediate feedback on tests, as well as offers access to coursework from anywhere at any time.
A multitude of higher educational institutions have, over the last couple of years, expanded their learning offerings to the online space, reaching millions of students across the world, who would like to expand their knowledge and skills base to better themselves. Some examples of these include Coursera, Skillshare, Udemy, Codeacademy, Edx, Pluralsight, and Future Learn.
E-learning is a safe, interactive method of providing education and it is thriving during the current pandemic. An increasing number of people are choosing to learn new skills or enhance their current skills all from the comfort of their homes.
2. Boosting your virtual presence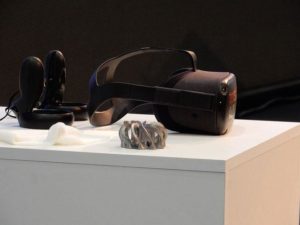 As new virtual reality is becoming increasingly important, so is the virtual presence of a company or an individual.
In fact, according to CNBC, some F500 companies such as Boeing, UPS, and Walmart are incorporating virtual reality into their worker education and training programs. The tangible benefits of this move have been increases in retention rates and productivity numbers when using virtual reality as a training tool. What's more is that augmented reality is a further tech tool which companies are opting for to upskill their workforce.
Meanwhile, on the individual level, technology has been incorporated in the business environment for employees to continue being productive while working from home. For example, Zoom is a communication tool that is used by 300 million meeting participants on a daily basis. Corporate customers of Zoom included 265,400 companies, whereas the number of schools using Zoom were 100,000 as of March 2020.
3. Digital is becoming more human
Despite the movement of so many businesses online, where e-commerce is seen to be thriving for example, the digital space is becoming more human. Virtual events such as seminars, experience exchanges, and networking are becoming increasingly popular as the world shifts to the online space.
Microsoft-owned LinkedIn, the virtual professional networking site, has seen new records in growth and engagement during the COVID-19 pandemic. Used to expand one's professional skills and to look to make new career moves, it makes sense that this platform is gaining in popularity, with over 690 million users, representing over 50 million companies around the world. "At a time when jobless claims are skyrocketing and the entire business landscape has been upended, it's no wonder millions of users are keenly interested in what the platform offers."
There have been multiple stories of recruiters conducting interviews with the interviewee at home, surrounded by pets, spouses, and young children causing havoc. Responding to the changed circumstances of such interviewees, many recruiters have taken on a more human face and have adapted to these changes well. Having the human touch in a digital world has helped many in the professional space.
4. Over-the-phone interpreting
Despite the fact that we are at home or practicing social distancing, we need our communication to go smoothly. Conflicts, business, developments, and globalization do not stop with a pandemic and over-the-phone interpreting is a major part of it. Where previously one would just go and negotiate with someone in person, nowadays, more and more requests are coming for over-the-phone interpreting to save time and stay distant at the same time, all while completing the tasks that need to be completed.
The translation industry during quarantine has not been left unaffected by COVID-19. Sources indicate that the situation with the translation and language industry is best described as "ambivalent". In short, the success of the industry will largely depend on the company, its location, and its response to the pandemic. Companies that were able to organize effective working processes from home are now at the top. With much of the world's population staying at home and the rise in YouTube, Netflix, and other sources of entertainment, there is much greater demand for content and content creation. This is "good news" for translators, as there will be higher demand for their work, and their remote work can be organized more effectively.
In particular, there will be strong demand for Chinese translators. One of the reasons behind this is due to the economic gap that was created during the quarantine in China. China is currently recovering after the pandemic and "quickly needs to regain its position as the global producer and exporter."
A further reason for the need for increased Chinese translators is the "active exchange of the experience of fighting against the virus and treatment of the patients." This is driving a global discussion and information exchange between researchers and professionals in the healthcare field.