Golden Week 2023 – Limited Resources and Availability
[April 03, 2023 – Los Angeles, CA, US] – 1-StopAsia, the leading provider of language and localization services is announcing that it will have limited availability and resources during the upcoming Golden Week in Japan. The holiday, which is a national holiday in Japan and is expected to impact business operations across the region during the following days:
April 29, 2023 to May 7, 2023
During this period, 1-StopAsia will have limited availability for translation and localization services for Chinese, Korean, and Japanese languages. We advise clients to plan ahead and submit their projects in advance to ensure timely delivery.
"We understand the importance of meeting our client's needs, but we also recognize the significance of this holiday in Japan," said CEO Don Shin. "We encourage our clients to submit their projects early to avoid any potential delays or disruptions during this time."
Despite the limited availability, 1-StopAsia remains committed to providing high-quality language and localization services to its clients. Our team of experienced professionals will be available to answer any questions and provide support during this period.
1-StopAsia thanks its clients for their understanding and cooperation during this time and wishes everyone a happy Golden Week.
Golden Week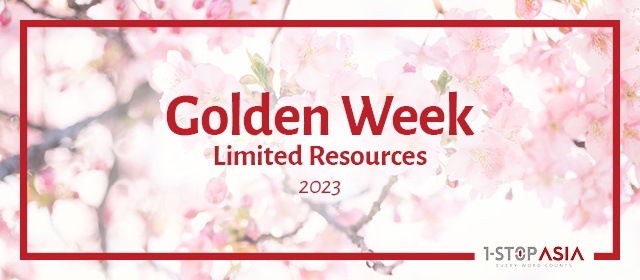 Golden Week is a collection of four national holidays observed in Japan each year from late April to early May. Showa Day, Constitution Memorial Day, Greenery Day, and Children's Day are the four holidays celebrated during Golden Week. These holidays were implemented to provide the hardworking people of Japan with a longer period of consecutive vacation, which has now become one of country's busiest travel periods.
About 1-StopAsia
1-StopAsia is a global leader in language and localization services, providing translation, interpretation, and localization solutions to clients in a wide range of industries. With a team of experienced professionals and a commitment to quality and customer satisfaction, 1-StopAsia has earned a reputation as a trusted partner for language services.