Chuseok/Mid-Autumn Festival Limited Resources and Availability
[September 26, 2023 – Los Angeles, CA, US] – 1-StopAsia, a leading provider of language and localization services, is excited to announce the upcoming Chinese Mid-Autumn Festival and National Day Holiday. Please take note of the following important details:
Holiday Dates:
The Chinese Mid-Autumn Festival & National Day Holiday will commence on Wednesday, September 27, 2023, and extend through to Monday, October 10, 2023, based on Beijing Time (BJT, GMT+8). It is important to note that during this period, only 50% of our Resource Managers (RMs) will be available to assist with projects.
Additionally, our Korean in-house team will be on holiday from Thursday, September 28, 2023, to Tuesday, October 3, 2023.
We encourage our clients to submit their projects early to minimize any potential delays or disruptions to your projects. Beat the holiday rush and ensure your projects stay on track.
Despite these holiday periods, 1-StopAsia remains committed to delivering high-quality language and localization services. Our experienced professionals will be on hand to address any inquiries and provide support as needed throughout this time.
Chuseok, also known as Korean Thanksgiving…
has been celebrated for nearly two centuries and gives individuals the opportunity to reconnect with loved ones and celebrate those who can no longer be present.
During Chuseok, Koreans come together to craft special dishes that brim with cultural significance. And, if you're seeking culinary inspiration, look no further. We present to you a delightful piece of Asian culture known as: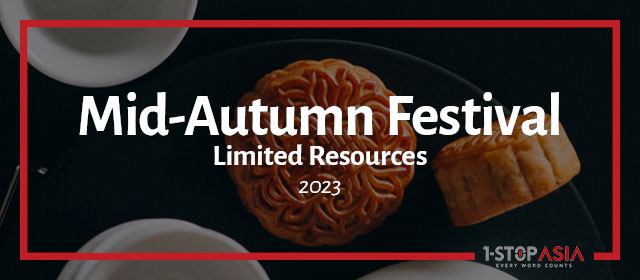 This delectable dessert graces the festive tables of both China and Korea, allowing you to relish the flavors of two distinct cultures and celebrate the holidays in true connoisseur style!
We might be taking a break, but we're still here for you. So, whether you're moon gazing during the Mid-Autumn Festival or savoring some delectable Korean dishes for Chuseok, 1-StopAsia team of language pros will be around to handle your queries and offer support during this festive season.
We appreciate your understanding and cooperation during these festivities and holidays. We look forward to continuing our partnership and delivering exceptional language solutions.
About 1-StopAsia:
1-StopAsia is a global leader in providing language and localization services. With a dedicated team of language experts, cutting-edge technology, and a commitment to excellence, we empower businesses to expand their global reach by breaking down language barriers and facilitating effective communication.