Many Tagalog speakers incorporate English into their everyday oral and written conversation. This blend of Tagalog and English is known as "Taglish" or "Englog"
25
M
NUMBER OF TAGALOG SPEAKERS
One of the official languages of the Philippines is Filipino but in reality, it is a modernized and updated version of Tagalog. Both languages are similar and different at the same time and thus the difficulty in Tagalog translation. Facts that affect English to Tagalog and other languages translation: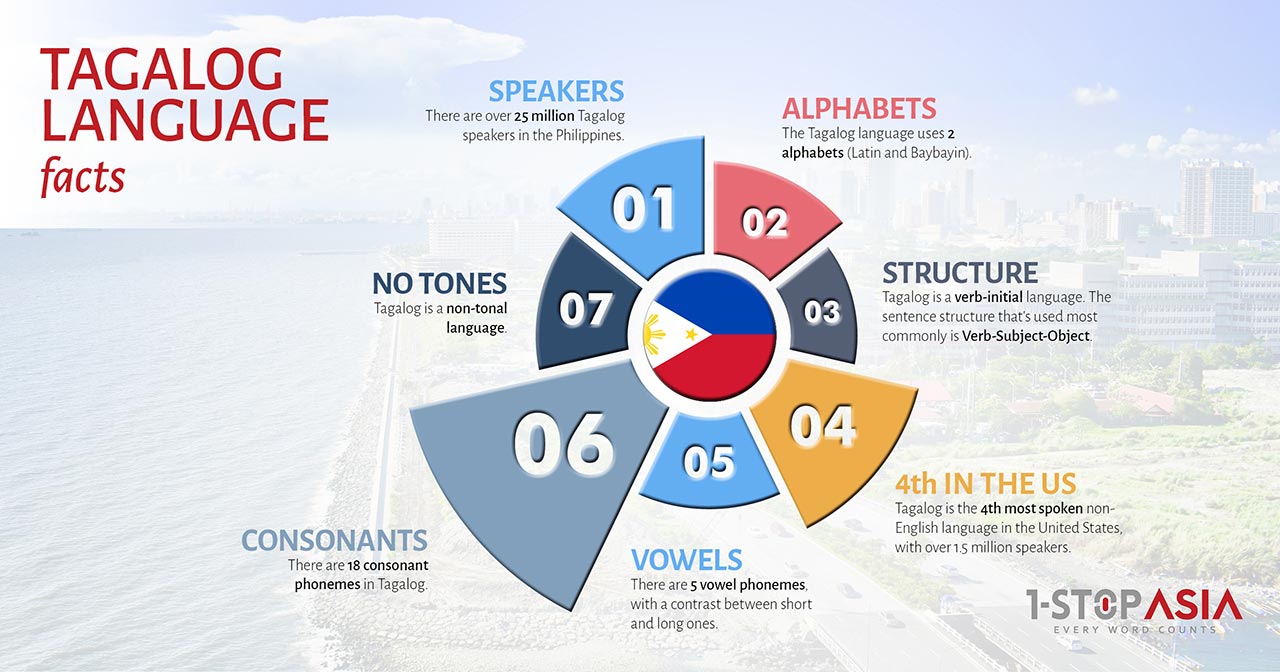 The complexity of Tagalog translation
1. The written language > Translation Service
The case markers: There are the so-called case markers, which are two types – one is used for names of people, the second is used for everything else. Nouns are not marked for case or number. Only loan words from foreign languages like the Spanish noun amigo and amiga (friend in masculine and feminine).
The contextual translation: This is a must when translating Tagalog/Filipino as the language has certain specifics. For example: in Filipino, the expression "brown sugar" is translated as "Pulang Asukal" which literally means "red sugar", while the word brown is "kayumanggi". The word "kayumanggi" is only used for race or color and can not be used with the word sugar.
2. The spoken language > Media Service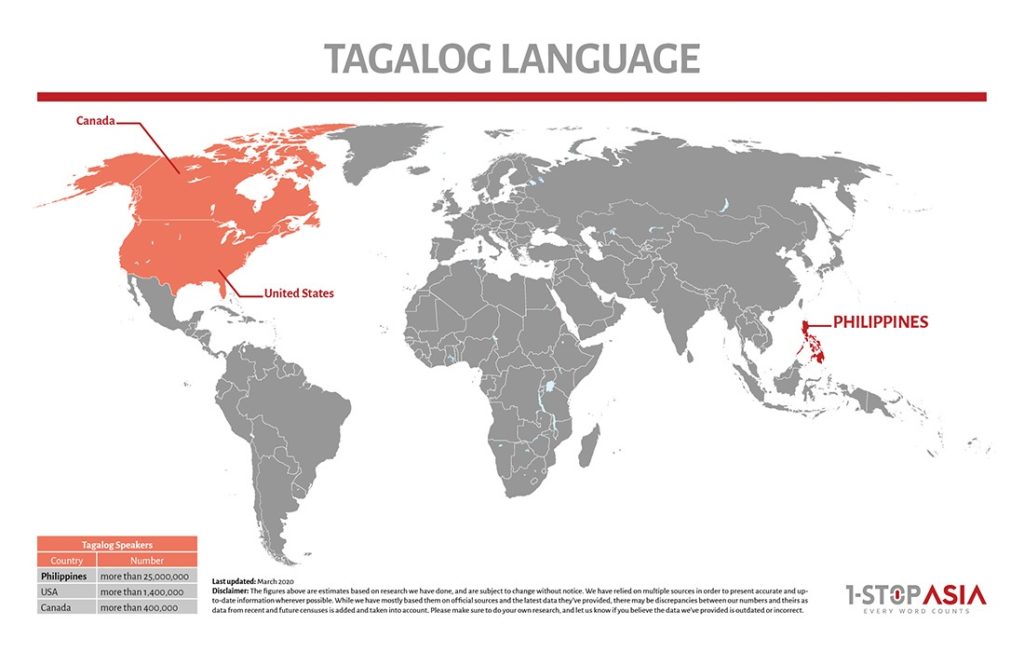 The 2 sides of the similarities: although Tagalog and English share many aspects in common, translators and linguists need to be extra careful. These similarities when brought together create quite a mixture and loanwords which can be tricky when performing Tagalog translation. For example, numbers are a challenge as they are often a mixture of English, Tagalog, and Spanish and each is used differently. Furthermore, Taglish – the mixture between English and Tagalog is another challenge. It is used widely in the educated levels of society. On top of that, there is one more variety of Tagalog, which is bringing in the Spanish influence and it is referred to as Chavacano or Chabacano.
The evolving language: Tagalog is an evolving language heavily influenced by local languages along with English and Spanish. This makes its translation a challenging task as there are always new words to consider. These words are sometimes are not yet translatable and hard to match in a professional translation.
1-StopAsia's solution for you
1. Native translators with local knowledge.
At 1-StopAsia we aim to have a pool of professional and native linguists which is available at any time for your requests in Tagalog translation. Along with that your dedicated Project Managers from our team are skilled at managing your projects to optimize the delivery process and save you the hassle. We have built-in a Quality Assurance process that monitors and reduces mistakes. This process is part of our aim to improve our quality all the time, so we can deliver a better service in the future.
2. 20 years of experience.
For over 2 decades working in the translation business, we've cultivated an in-depth understanding of the industry and most importantly we've built a flexible and efficient project management system. Our Project Managers are always there to handle your inquiries, save you time and deliver the translations within the allotted time for each assignment.
REQUEST A FREE QUOTE
We, at 1-StopAsia, are aware that responsiveness and excellent project management are the essence when working within the translation industry.
If you feel it is time to improve your time-management and pay more attention to your clients, get in contact with our Production Team and check how we can help you achieve it.
Ask us anything you need to know about:
quotes and pricing
translations and media services
Asian languages
Start your new project with us today! All you have to do is fill in the form on the right and get your free quote.