The traditional Mongolian script that goes from left to right in vertical columns running from top to bottom is used only in Inner Mongolia.
5.7
M
NUMBER OF MONGOLIAN SPEAKERS
The Mongolian language is one of the languages that belong to the arctic language family as well as the Mongolic languages. It has a very long history and is an official language widely spoken in Mongolia and some parts in China. The grammar principal and the accent of this language are much different from many other languages. Mongolian translation has always been a challenge for translators and linguists, but still, it is not a mission impossible. Language facts that affect Mongolian translation to English and other languages: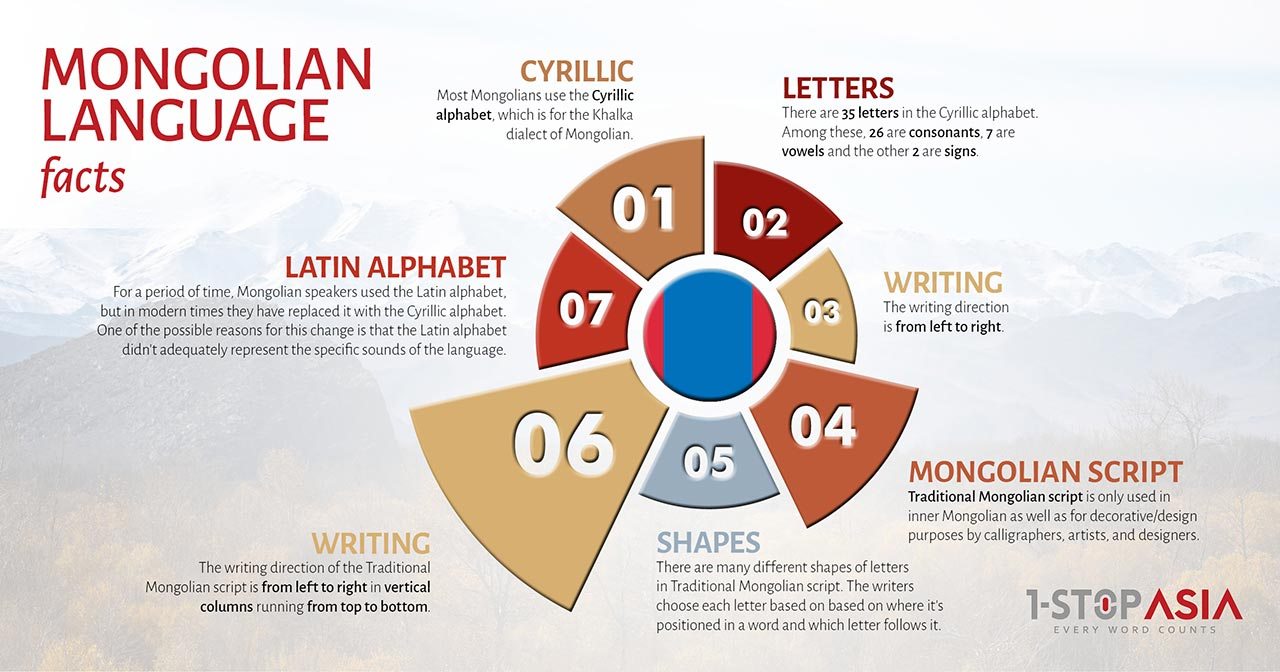 The complexity of Mongolian translation
1. The written language > Translation Service
The Mongolian language probably has one of the most intriguing and diverse histories due to the fact that it is a very different language from the others. Its complicated pronunciation made it difficult to find the proper script to represent it, so it has endured dynamic changes when it comes to the written language.
Nowadays the Traditional Mongolian Script is one of the writing systems used along with the Cyrillic alphabet.
Both writing systems are quite foreign to the western world in both written and spoken forms, so whether translating English to Mongolian or another language, finding the proper partner to guide you in Mongolian translation is an important step.
2. The spoken language > Media Service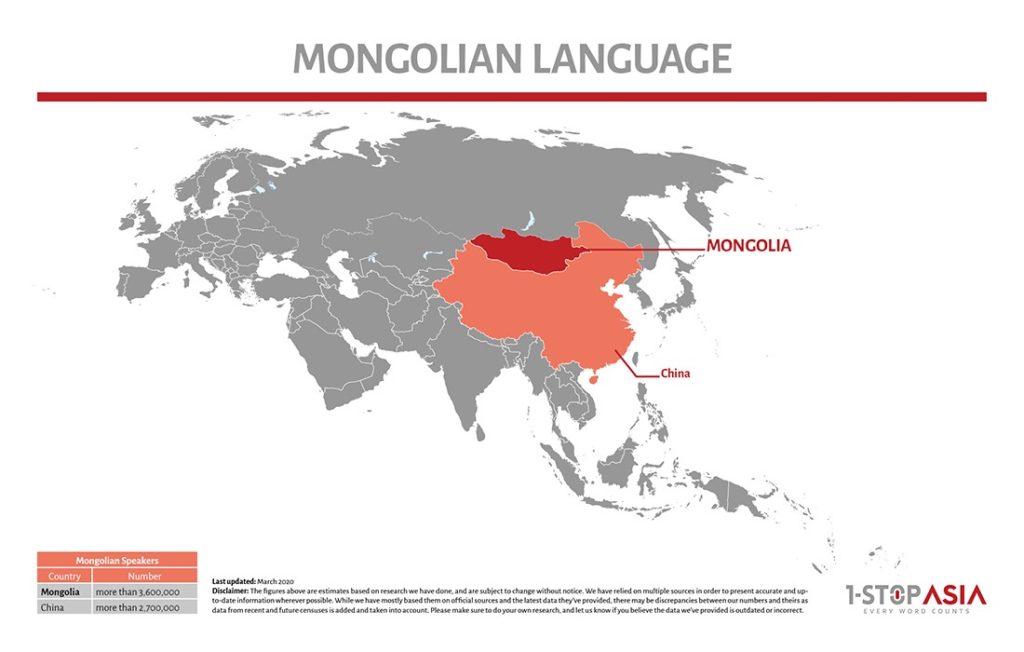 Dialects: there is quite a number of dialects when it comes to Mongolian, which sometimes makes it quite hard for translation.The main dialect, however, which is spoken in their capital is Hhalkha and we will use it as a base for the information below. The interesting thing about the language are its vowels. On one side there is something that is called vowel harmony – it is a process in which all vowels in a word have to be from the same class.That and the fact that it has other vowel specific rules makes it a challenging language for speaking and media translation. The same goes for localization towards a specific target audience.
1-StopAsia's solution for you
1. Native translators with local knowledge.
At 1-StopAsia, we have managed to keep a close connection to quality Mongolian translators, which are available to help you any time you have a Mongolian translation. Due to the specifics of this language, talk to our Project Managers in advance, before taking such a project. With their experience, they will guide you through the process and together you will minimize errors and make the delivery on time. As with other languages, we have incorporated an additional Quality Assurance team, which monitors the whole process and improves our process all the time. This well-structured process is aimed at enhancing our performance and delivering a satisfactory final result.
2. 20 years of experience.
For over 2 decades working in the translation business, we've cultivated an in-depth understanding of the industry and most importantly we've built a flexible and efficient project management system. Our Project Managers are always there to handle your inquiries, save you time and deliver the translations within the allotted time for each assignment.
REQUEST A FREE QUOTE
We, at 1-StopAsia, are aware that responsiveness and excellent project management are the essence when working within the translation industry.
If you feel it is time to improve your time-management and pay more attention to your clients, get in contact with our Production Team and check how we can help you achieve it.
Ask us anything you need to know about:
quotes and pricing
translations and media services
Asian languages
Start your new project with us today! All you have to do is fill in the form on the right and get your free quote.