1-StopAsia Successfully ISO Recertified for 2022!
[July 12, 2022 – Plovdiv, BG] – At 1-StopAsia, we have a strong belief in continuous improvement in conjunction with the industry standards. Thus, we are pleased to announce that we have successfully completed our annual ISO recertification audit for 2022.
The ISO certifications that we recently passed are:
ISO 17100:2015 for Translation Services
ISO 9001:2015 for Quality Management Systems
You can find all of them here!
While the ISO audit took time with the supply and analysis of much documentation, we are delighted to have been recognized as a corporation that features a well-structured work methodology and is in line with the business standards.
We, therefore, believe that this is a direct testament to our efforts to create and maintain robust procedures for project management, workflow, security problems, and translators' quality.
1-StopAsia's Annual ISO Audit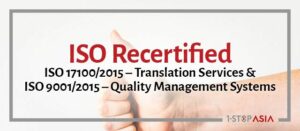 1-StopAsia's Executive Manager for Europe Yana Dinchyiska states:
"When talking about ISO certification, it is not just a certification, it is a standard! Companies in Europe and elsewhere expect you to be certified and they require it if you want to be their trusted partner. Passing the certification process once doesn't grant recertification, so we are really pleased that we've managed to go through the procedure once again."
About ISO Certification
The ISO audit and recertification are a testament to our sensible practices in the industry. Additionally, such measures are geared towards harmonizing standards, improving efficiency and productivity, providing quality services, and maintaining consistent outcomes. These are critical factors in the translation industry. As a result, we are very likely to implement other ISO certificates in the future, which are relevant to the translation industry.