Network With Gergana Toleva At Elia ND 2022
[September 12, 2022 – Plovdiv, BG] – 1-StopAsia is delighted to announce that we will be attending Elia's Networking Days 2022 which will be held in Vilnius, Lithuania from the 28th until the 30th of September.
You will be able to network with Gergana Toleva, the person behind 1-StopAsia's Global Strategic Development. This means through her you will be able to learn a lot about our company, so feel free to say hi!
Gergana Toleva on attending Networking Days 2022:
"I am really curious to be able to attend the new format of Networking Days. The program sounds amazing and I am looking forward to meeting everyone in Vilnius!"
Elia's ND 2022 is an unmissable opportunity for veterans and newcomers within the language service industry to address a range of business challenges over the course of two days, as well as exchange viewpoints and socialize with peers.
Gergana is ready to meet you at the conference, meanwhile, if you have any business inquiries you can send us an email to marketing@1stpasia.com.
About Networking Days: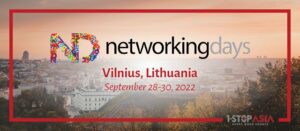 Networking Days is the flagship event of ELIA and was created with the aim of bringing together member companies and wider language industry stakeholders for learning and knowledge-sharing with a strong emphasis on networking. ND 2022 is coming up in a completely new format this year. The program includes discussion groups and sessions on topics covering all areas of language industry business, as well as social events that are perfect for networking among peers.
More about ELIA:
Elia boasts a full calendar of events that will be beneficial to all aspects of your business in the language industry. They are constantly hard at work building and shaping their events, so you can be sure there will always be an event close to you that will be beneficial to you and your business.
About 1-StopAsia:
1-StopAsia specializes in the translation of Asian languages. Having offices located across 3 different continents guarantees we are available 24/7 for our clients. The center of the company's values is the love of Asian languages and the continuous dedication to our clients.