1-StopAsia Will Be Presenting At The GALA 2022 Event in San Diego!
[March 28, 2022 – Los Angeles, CA, US] – We're pleased to officially announce that we will be attending the GALA 2022 Event in San Diego and we have a number of announcements to share with you!
Joining the event will be our CEO – Don Shin and our Global Marketing Manager – Gergana Toleva.
Additionally, we are elated to announce that we have been selected as speakers in collaboration with another great company – Kobalt Languages.
Gergana Toleva, together with the Founder and General Manager of Kobalt Languages – Ricard Sierra, will be part of the GALA Conference on the 26th of April at 2 PM where they will be talking about "The Two Sides of the Coin: Marketing for LSPs to LSPs & LSPs to End-Clients".
The presentation focuses on B2B Marketing for the Translation Industry by providing practical first-hand experience of the two companies. The following key points will be touched upon:
Defining the target groups and why we chose to present together
Customer Personas and Content approach
Customer Buying Cycle & Content creation
Building Content Strategy for LSPs and End-Clients
About Kobalt Languages:
Kobalt Languages, founded in 2010 in Barcelona, Spain, are global content experts. Translation, transcreation and content creation are among the many services they offer in over 100 languages. They specialize in getting your message across while aiming to make the whole process accessible and effortless. Learn more about Kobalt Languages and their services here.
About 1-StopAsia:
At 1-StopAsia we specialize in the translation and localization of Asian languages. By having offices located across 3 different continents we guarantee to be available 24/7. At the center of the company's values are the love of Asian cultures and languages and the continuous dedication to our clients.
More about GALA 2022: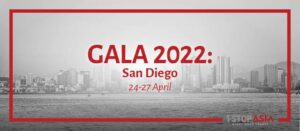 The Globalization and Localization Association (GALA) aims to connect organizations and people in the global language industry and gives them the opportunity to grow their business, network with people in the field and share knowledge with experienced professionals.
GALA conferences are held once a year and are an excellent way for the company's idea to manifest by bringing people together where they can inspire each other, and of course, have some fun. The GALA 2022 conference will be held in San Diego from 24th to the 27th of April. Make sure to stop by and say hello to our representatives if you are going to attend!