We are aware that in our industry quality is very important – and we will not state that we have excellent quality. What we would like to share with you is what we have invested into the management of our process, so that we can prevent and avoid mistakes.
We have reached the conclusion that there are 5 key points to which it is crucial that we pay attention. Improving in these areas gives us the essentials that we need to reach a very high level of customer satisfaction.
Here are the key elements we care about in order to improve our services for you:
1. Staff certification
We always keep up-to-date with technology.
We train our AM/PMs departments to work with the relevant software
We check our linguists' certifications and backgrounds beforehand.
We train our teams to work with almost every software available for translation
We are open to new software should you require this
2. Training for partners
If your employees need assistance on how to work with us, we cover that base in advance
Our employees are open to training if you require us to have something specific
3. ISO certification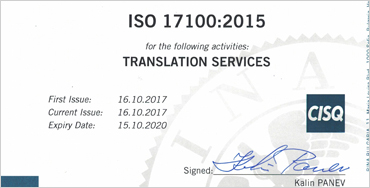 ISO 17100:2015 – Translation Agency – the management style of the workflow is very important, and this is especially true when it comes to translation companies. With our persistent desire to improve and to be a valuable and trusted partner for our clients, we have adopted the ISO 17100:2017 in October 2017. This ISO standard is adopted by Translation agencies and refers to:

Translation and translation services
Translation workflow and technology
Language and content
People involved in translation services
Control of the translation services process.

Our translators, based on the ISO 17 100:2015, are a team of carefully selected experts fulfilling the following criteria:

A degree in translation, linguistics, or an equivalent degree that includes significant translation training from a recognized institution of higher education
A degree in any other field from a recognized institution of higher education and the equivalent of two years of full-time professional experience in translation
The equivalent of five years of full-time professional experience in translation

The production process is a straight-forward process with clearly defined stages and checks
Teams on all relevant stages are carefully selected, and there is a clear system in which we are constantly auditing and looking to improve in our selection process.
ISO 9001:2015 – Quality Management Systems – we obtained this certificate in June 2018, and it was an important milestone for us, as ISO is an internationally recognized standard that ensures that our products and services meet the needs of our clients through an effective quality management system and Quality Policy.
What are your benefits?
Time efficiency: we have confirmed that our process management is structured, effective, and organized, which gives us the opportunity to work fast and accurately for our partners
Quality of resources: better management of resources, teams, and work processes
Customer satisfaction: we are taking it one step further when it comes to detecting and identifying a problem, and how we solve it.
4. GDPR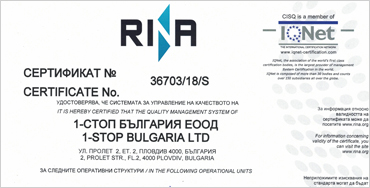 As with all other companies that value their own partners and clients, we have adopted the GDPR regulations and our Translation Company complies with the Data Protection Regulation. We have developed and adopted our own regulation system which is related to the following simple rules listed below:
As a law-abiding data controller, we take all reasonable measures to ensure that your data is processed and stored securely. We have developed a comprehensive Management System certified to ISO 9001:2015 and ISO 17100:2015 wwhich includes appropriate policies and procedures designed to ensure fair and transparent management practices covering all aspects of our activities, including information security and personal data protection. To ensure that your personal data is processed and stored securely, we apply a range of organizational and technical security measures which include but are not limited to:
GDPR-compliant Information Security Policy and Data Protection Policy with specific guidance to our employees, sub-processors, and freelancers.
Non-disclosure and confidentiality agreements with employees and contractors (sub-processors and freelancers).
Development of a cloud-based platform where our data management processes take place, which is accessible with appropriate restrictions worldwide by our employees and contractors.
Providing guidance and demanding from our contractors full compliance with the best possible data protection measures, including their own desktop and mobile computers.
Appropriate procedures and methods of data transfer via secure channels of communication and additional measures such as encryption.
Appropriate policies for retention of documents containing personal data and deletion upon completion of the job related to a particular document.
Adequate measures to ensure the preservation of documents from loss or destruction.
Continuous review of data security practices to ensure full compliance with the applicable legislation and the client requirements set forth in agreements or specific instructions.
In case we identify an actual or potential data breach, we will immediately notify you and the respective data protection authority.
5. Complaint management
Our long experience has given us some valuable lessons and one of them is that being partners means that we have to be able to recognize and amend our own mistakes. By developing a straightforward complaint management system, we are not only able to acknowledge our mistakes, but we are also able to analyze our mistakes and learn how not to repeat them. Here is how our Complaint Management works:
When a client finds a problem with the project, they send us a notification
We ask them to fill out a report with feedback on the matter
We pass the feedback to the relevant Language Leader
The Language Leader engages a third party who is Independent, to check and evaluate the situation.
We issue a statement along with necessary correction /if applicable/ and return to the client
A few times a year we summarize the feedback and analyze the situation. We learn from our mistakes and improve where necessary.
For our regular clients, we create glossaries, guides for our translators, and many other references in order to keep the process as easy and flawless as possible.