Limited Resources - Japanese Golden Week 2022
[March 29, 2022 – Los Angeles, CA, US] – We, at 1-StopAsia, deeply appreciate our current partners and customers and would like to notify you about our working schedule during the Japanese Golden Week in 2022. Please take note of these dates when considering your planning and deadlines.
The Japanese Golden Week is an important holiday for our colleagues and it is a rare chance for them to take a break.
Timetable and Resources Availability
In 2022, the official holiday lasts between Apr 29, 2022 – May 05, 2022.
From our personal experience, the period affected by the holiday is longer and we recommend you to consider this between Apr 29, 2022 and May 09, 2022.
Please note, that during this period our resources for Japanese will be limited and you have to consider a longer turnaround time for your clients.
There will be limited availability for Korean and Chinese as well, between May 02, 2022 and May 05, 2022.
At 1-StopAsia, we recommend to our partners and customers to take note and plan accordingly to avoid workflow issues.
Workflow outside of Asia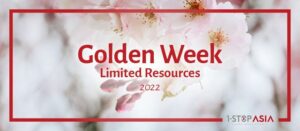 Our Project Managers in the US and Europe will continue to project processing during the holidays around the Golden Week in Japan and will do everything possible to answer your requests. During this period, it is best to steer clear of tight handover terms to avoid any delays with your customers.