1-StopAsia's Rank in Slator's Language Service Provider Index
[April 11, 2022 – Los Angeles, CA, US] – Slator creates a Language Service Provider Index every year and it consists of the world's largest translation, localization, interpreting, and language technology companies.
Participants are listed in order of revenue and the ranking is supplemented with information relating to each company's year-on-year growth, corporate headquarters, ownership, and financial year-end.
Slator groups the language service providers, based on their revenues, into 4 distinct groups as follows:
Super Agencies
Leaders
Challengers
Boutiques
In this year's index, 1-StopAsia is ranked as a Challenger and can be found at rank 105. Compared to last year 1-StopAsia was in the 98th place, however, stats for this year have improved! This just comes to show how much the translation and localization market has expanded over a year as 1-StopAsia continues to be one of the major LSP for Asian languages.
About Slator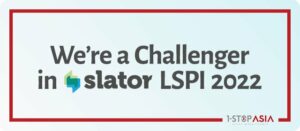 Slator is a company that releases news, insights and the latest information on drives, funding and a lot more when it comes to the translation and language technology industry. The company is here to decipher and make sense of everything that is happening in this ever-expanding market. To support this, they also publish in-depth analysis articles, host webinars and video interviews, and research the major drivers of the language industry.
Slator's headquarters are in Zurich, Switzerland, with offices in Singapore, Bangkok, Manila and London.